About
Sauce Pizza & Wine answers the daily dilemma of "Where are we eating?" This fast, fresh concept offers the cure for every appetite, every day, every time with updated Italian favorites paired with impressively affordable wines. Whether it's Italian pasta and fresh salads for your family,
"the cure for every appetite, every day, every time"
half a dozen hand-stretched pizzas for the local kids soccer team, "kid-famous" mac & cheese to feed your little wild ones, vegetarian and gluten free options, or meatballs that would make your mother-in-law proud . . . this neighborhood Italian eatery will quickly become your fast-casual dining answer.

Online Ordering
At Sauce Pizza & Wine, we know that an unforgettable meal starts with artisanal, farm-fresh ingredients. Sauce brings together an amazing Italian collection of bruschetta appetizers, seasonal salads, paninis, and delicious pastas and pizzas prepared daily using scratch cooking techniques. We provide friendly service and an energetic atmosphere, along with the convenience of a casual neighborhood restaurant.
With online ordering, we offer a quick and easy way to bring Sauce home.
MADE-TO-ORDER AND STAMPED WITH OUR SEAL OF LOVE.
To find out if your nearest location delivers, or to place an order for takeout, please review our locations and menu page for a full list of delivery and pickup service providers.
Extra Sauce
Hey Albuquerque, are you a pizza and Italian food fan? We are too! We're Sauce Pizza & Wine and we're bringing you our version of the fast-casual experience with high-quality food and service. We were founded in 2003 and reinvented Italian dining in our native Arizona. We cater to people of all ages with artisanal, […]
Sauce Pizza & Wine is currently hiring for our Ocotillo location in Chandler. We're looking for hard working people who love cooking and making pizzas from scratch with the freshest ingredients. If this sounds like you, then our Sauce family would love to meet you! HIRING ALL POSITIONS: Cashier, Server, Cook, Utility WHERE: 2551 W. […]
Careers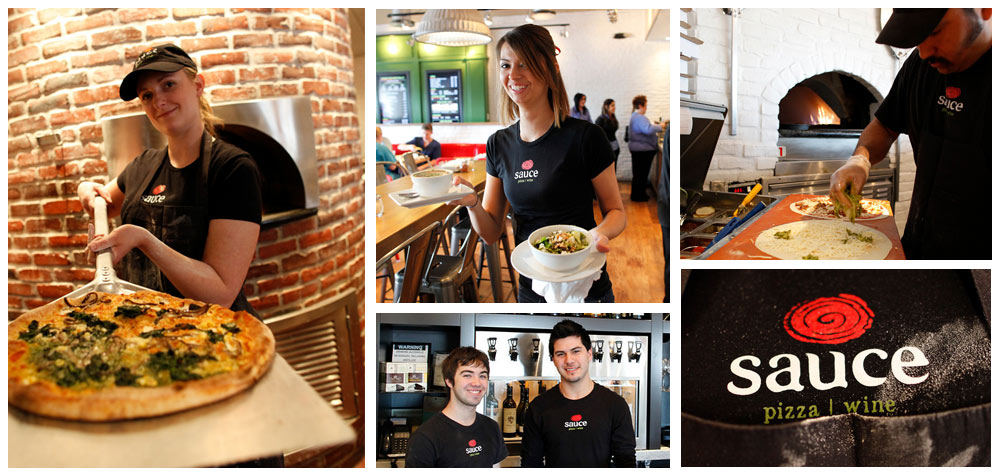 Sauce Pizza & Wine is seeking energetic, service-minded individuals committed to providing exceptional guest-satisfaction in a fast paced, high-energy environment.