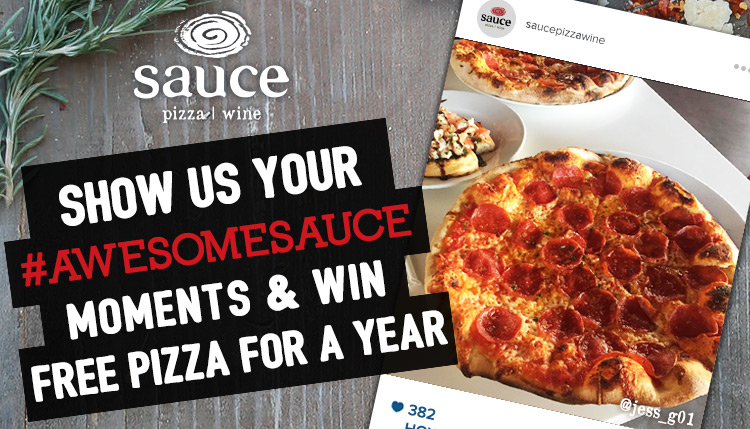 We're all about the little moments in life like snatching the last slice of pizza, sipping wine with friends, and grabbing a pizza to-go with the family. These moments are filled with joy and laughter, so we want to see your awesome moments with Sauce!
Share your awesome Sauce moments with us on Instagram and –drum roll, please—you could win Sauce for a whole year*! No matter the story, we want to see how your awesome Sauce moments came to be and what they look like.
Here's how to enter our #AwesomeSauce contest, starting April 4th:
Snap a photo of your amazing moments with Sauce. Whether it is eating in-store or taking Sauce To-Go—anything that reminds you of Sauce (bonus points for creativity)!
Tag @SaucePizzaWine and use #AwesomeSauce
One winner will be selected at random and win Sauce for a whole year—we just can't think of a better reason to share your awesome moments with us! So what are you waiting for? The contest ends on April 30th, 2016, so be sure to submit your best awesome Sauce shots today! For a complete list of contest rules and eligibility, click here.
Don't forget to follow us on social  Facebook │ Twitter │ Instagram
*(12) $50 gift certificates – retail value of $600