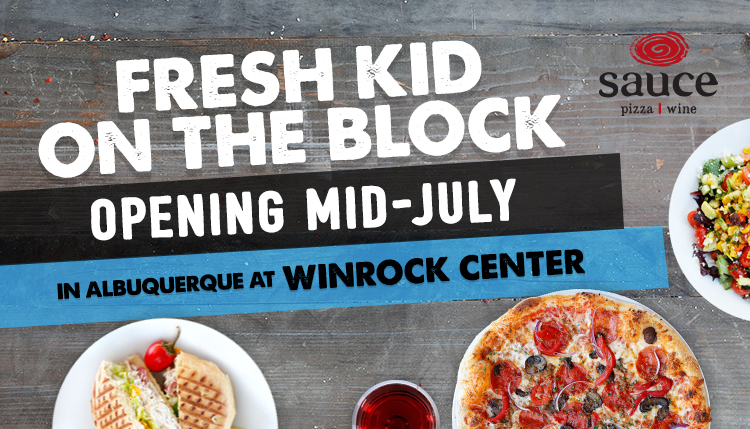 Hey Albuquerque, are you a pizza and Italian food fan? We are too! We're Sauce Pizza & Wine and we're bringing you our version of the fast-casual experience with high-quality food and service. We were founded in 2003 and reinvented Italian dining in our native Arizona. We cater to people of all ages with artisanal, farm-fresh ingredients and the convenience and accessibility of a neighborhood restaurant.
And now, Sauce Pizza & Wine is heading for ABQ!
We'd love to introduce you to our style of gourmet pizza and delicious menu items that are made fresh daily. All of us at Sauce believe in one simple thing: delicious food at a reasonable price—we're ready to bring this value to The City of Enchantment this summer.
Being neighborly is important to us. Whether it's one of our salads made with farm-fresh ingredients, a panini served on freshly baked focaccia from Fano Bread, our house-made soups, or one of our gourmet pizzas with Hatch green chile, the utmost care is put into crafting the perfect made-from-scratch meal that anyone in the neighborhood can enjoy.
With 12 locations in Arizona, our new home is slated to open mid-July in the Winrock Center in Albuquerque, NM.
Hungry yet, Burqueños?  Stop by and let's break bread together—and by bread we mean pizza—we can't wait to meet you all in ABQ!
Don't forget to follow us on social