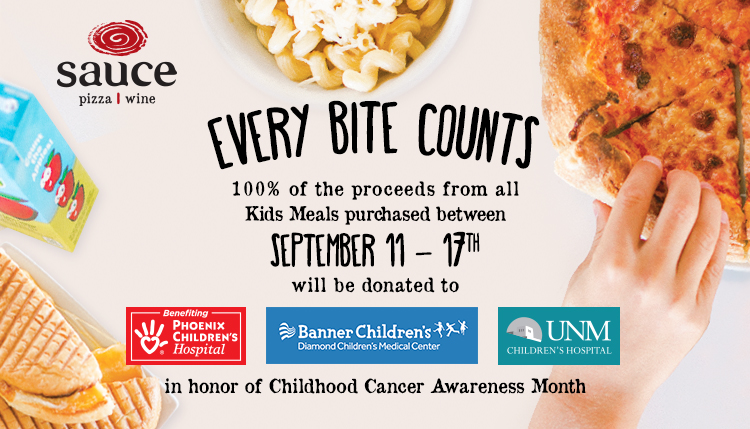 In honor of National Childhood Cancer Awareness Month, we have partnered up with local hospitals to spread the word about the outstanding quality care and education they provide.  Phoenix Children's Hospital in Phoenix, Diamond Children's Medical Center in Tucson and UNM Children's Hospital in Albuquerque.
We're completely blown away with the work these hospitals have done for children and families in their communities, so from September 11th-17th, we are donating 100% of the proceeds from all Kids Meals to these hospitals.  Not buying a kid's meal?  There will also be a chance for you to contribute by adding a donation to your bill.
Giving back has always been close to our hearts and we are extremely grateful for the chance to help raise money that will directly impact the lives of patients and their families.  With the help of our community we can continue to serve great food while also enhancing the well-being and growth of kids by supporting these organizations.  Join us as we participate in National Childhood Cancer Awareness Month to help bring attention and support to children in need.
To learn more about your local children's hospital and additional ways to donate, visit:
givetopchf.org/sauce
www.bannerhealth.com/locations/tucson/diamond-childrens-medical-center
www.hsc.unm.edu/health/locations/childrens-hospital.html