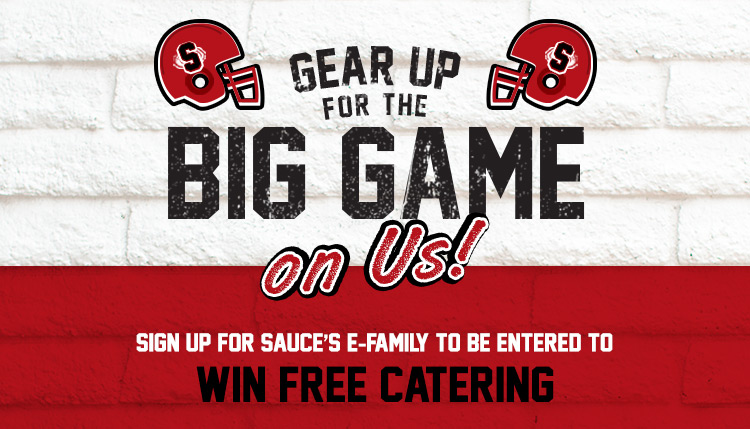 Gear up – the Big Game is almost here! We are just a few weeks away and nothing compliments football like pizza. Want to win free catering for your party? If you're a part of our E-Family, you're already halfway there!
From now until January 29th, you can enter our catering giveaway for the chance to win a free catering package* for your Big Game festivities!
Because cooking and football doesn't sound as good as free Sauce catering – here is how to enter:
If you're already a member of our E-Family, then you're already entered – BOOM, easy peasy!
If you're not a member, subscribe to be entered between 1/16/2018 through 1/29/2018! We promise not to spam your inbox.
BONUS: Receive additional entries when you forward our email about the giveaway to a friend**
For the official contest rules, click here.
FOUR lucky winners will be chosen on February 1st! GOOD LUCK!
*Maximum value of $150. Cannot be combined with other offers or discounts. Valid at all Sauce locations, excluding Sky Harbor Airport. Giveaway ends January 29th, 2018. Winners will be announced, February 1st 2018. Redemption of prize expires March 31st, 2018.
** Forwarding to a friend will not automatically enter the friend into the contest and will not subscribe them to Sauce E-Family
Don't forget to follow us on social (you may be able to win there as well)