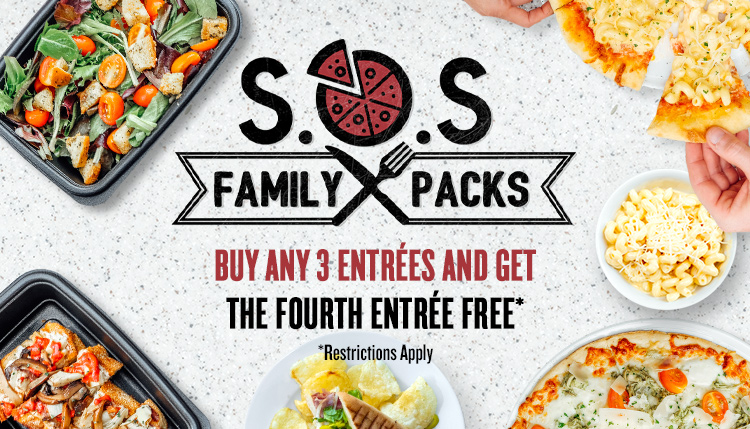 Sauce's new S.O.S Family Packs* are available for pick-up! Buy any three entrees and receive the 4th one on us. Mix and match from any of our immunity-boosting salads, signature pizzas, saucy pastas, pressed paninis, and kids meals. Great for family meals with the option for everyone to pick out their favorite dishes or consider it your meal prep and stock up the fridge with ready to go fresh-made meals.
Psst…you can pick-up a $12 bottle of select wine** while you're here and get all your weekly essentials covered!
*Includes all pizzas, salads, pastas, panini & kid's meals. Available for takeout and curbside pickup only (excludes 3rd party delivery). Free item will apply to the lowest priced entrée. Upcharges for modifications may apply. Cannot be combined with other offers or discounts. Valid at all participating Sauce locations. Valid 3/26/2020 through the End of Dine-In restriction mandates (local, state, federal).
**Available for take-out and curbside pick-up only. Not available for 3rd party delivery. Valid only on select wines at Arizona Sauce locations. Select wines are: Canyon Road Chardonnay, Placido Chianti, Ménage A Trois Moscato, Trinity Oaks Pinot Noir, Coppola Pinot Grigio and Coppola Red Blend. Cannot be combined with any other offers or discounts. See stores for details.