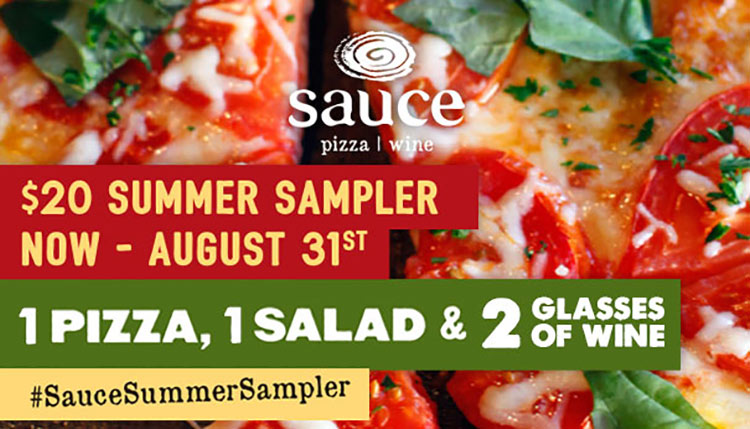 Hello fellow pizza lovers, let's celebrate summer the only way we know how—pizza and wine! Join us from now until August 31st and try a Sauce Summer Sampler. With your choice of 1 pizza, 1 salad, and 2 glasses of wine—you and pizza fans everywhere are sure to enjoy every last bite for only $20.
Summer 2015 is gearing up to be the best summer yet—which means we have crafted the perfect summer salad. For a limited time only, we have a seasonal salad that will set the mood for summer: Watermelon Salad. The Seasonal Watermelon Salad is packed full with fresh seedless watermelon, spinach, arugula, jicama, toasted pepitas, feta cheese and dressed with white balsamic vinaigrette. Add this salad to your Sauce Summer Sampler for a perfect summer treat.
Also, keep an eye out on our Instagram page, because we will be giving away FREE Sauce Summer Samplers all summer long! Post your photo of your favorite combinations and #SauceSummerSampler and tag @SaucePizzaWine!