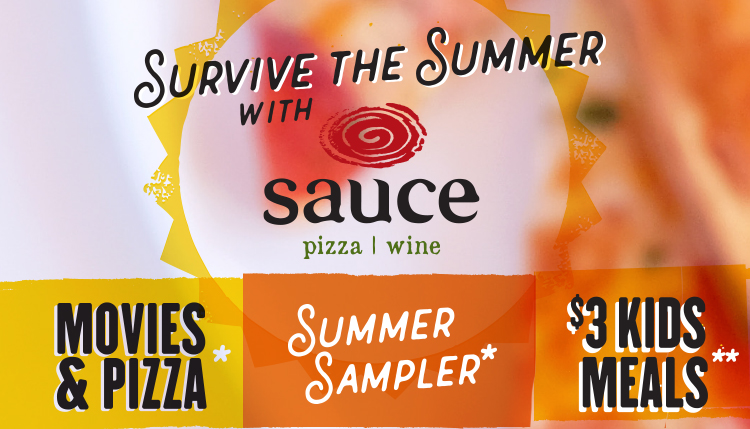 We've taken the best of Summer and packaged it up for your enjoyment! All Summer long you can beat the heat with our Survive the Summer with Sauce starter pack:
1. *Movies! Of course, this makes total sense, not only do you get to see some of summers newest flicks but you get the ultimate post-movie food – pizza. Bring in your same day movie stub and receive 25% off your entire order.
2. *Ah, the Summer Sampler – one of our essential summer survival musts. This includes 2 glasses of wine, to cool down of course, 1 pizza & 1 salad all for the chilled out price of $22. We're getting cooler already!
3. **And we didn't forget the kids, $3 kids meals sounds pretty cool doesn't it? 
Now that you have the Sauce Survival essentials you're ready to get out there and start enjoying summer! 
*Cannot be combined with any other offers or discounts ( the promotions listed above cannot be combined on the same visit). Valid at the Queen Creek location only. Valid now through 8/31/18. Restrictions may apply visit the store for more details.
*Valid for dine-in-only.
** Ages 12 & under only. Valid for dine-in-and take-out (excludes online 3rd party delivery).