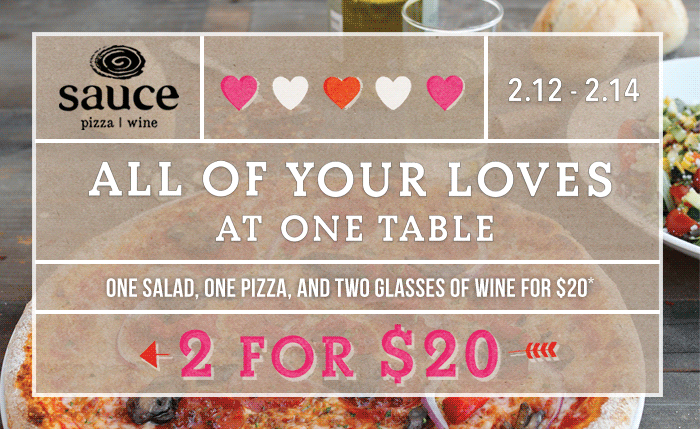 Break the mold this year for Valentine's Day.  Don't be another Joe-schmo or Jill-schmill by getting a dozen long-stemmed roses, box of chocolates, and table-cloth dinner for two reservations.  We have you covered with one food that pleases virtually everyone—pizza!  Not only pizza, but we'll also include a salad and two glasses of wine to complete your meal for two…all for only $20. This will surely bring all of your favorite things together at one table.
Our $20 meal for two will only be available Friday, February 12th thru Sunday, February 14th.  So stop by any time to celebrate your Valentine's Weekend with your sweetie!
Don't forget to follow us on social
*One salad ($10 or less), one pizza ($10 or less), and two glasses of wine ($5 or less) for $20. Can also substitute for any entrée ($10 or less) or any other drink ($5 or less).
** Sauce Thunderbird location will be closed on Friday, 2/12/2016 from 5pm-9pm for a private party